ConCodeSe (Contextual Code Search Engine) is a tool to search and rank source code files against defect (i.e. bug) descriptions of an application.
Bug localization is a core programming comprehension task in software maintenance: given the observation of a bug, e.g. via a bug report or a faulty execution trace, where is it located in the source code?
Developers spend 60-80% of their time on code search. Our algorithm built into our tool reduces this time by 40% and results in savings of up to one-third of the time to production. For example:
3 days to fix a bug, more than 1 day of savings
3 x 8hrs = 24hrs – 43% = 10 hours >= 1 day (8hrs)
The above savings also emotionally benefit the developers, such as:
Less frustration and confusion
More time to focus on new development
Short learning curve comprehending unfamiliar applications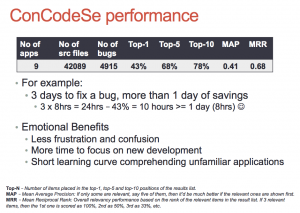 Our tool benefits most the companies that use Jira software to manage their complex application's life cycle processes especially when high developer turnover may exit. Additionally, due to low internal costs, it provides competitive advantage when writing best price RFP offerings.
Additional advantages include
Fast and simple approach
No training or configuration needed
No history needed (past versions or closed bugs)
Integrates with JIRA bug tracker and existing IDEs
Go ahead and browse through the categories and download selected items…